H/t Craig Murray on Twitter:
First time I've looked at Media Lens for yonks, good share, thanks @Twirlip (and Craig). Such a relief to see David Edwards on form.
The image is so very apt. The Archbishop pulled quite a lot of his punches, not least in his role with the Truth And Justice Commission, but that's what wisdom sometimes requires. Restraint, forgiveness: a great example of a man of endless compassion, just as His Holiness, on the left, is.
I wouldn't quarrel bitterly with those who accuse Gyalwa Rinpoche of being a useful idiot, as he has certainly aided USA/Western agendas. But these imperfections are what make us human.
The symbol on the left and right of the photo, somewhat like a Celtic Knot, represents how wisdom and compassion are intertwined. (Some also say 'politics' and 'spirituality'.) The golden fishes represent freedom and fearlessness (abhaya)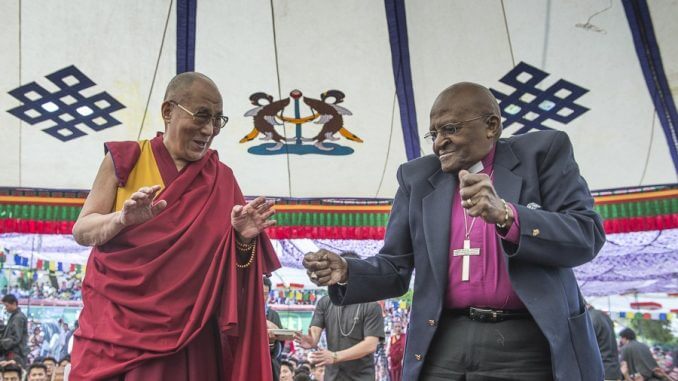 A perfect photo and a damn good article.