Man charged over racist comments at pro-Palestine rally
H/T Ceemac at TLN; the BBC headline disguises the fact that the arrest was for racial hate speak AGAINST Pro-Palestinians
But there's more going on in this piece. Underneath a police picture has zoomed in on the ATTIRE of two protestors against violence towards Palestinians - a picture maybe three inches square - and is now appealing for them to be dobbed in for it.
This article represents a new BBC practice - a kind of political Crimewatch - a program where after being titillated with police accounts of crimes, the public were asked to help apprehend 'real' criminals from the footage.
But even in this Trojan horse of a story the BBC can not bring itself to at least give a truthful headline about either the horse itself, or which way it is facing.
As if to affirm the point: also on the BBC page at the moment, this screaming Heil headline: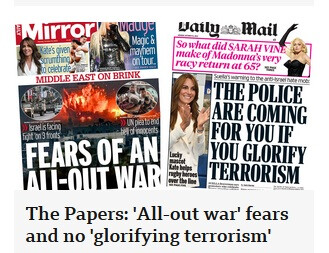 THE BBCPOLICE ARE COMING FOR YOU IF YOU GLORIFY TERRORISM
But lighting up government buildings with terrorist government flags is okay apparently.
The old Chomsky: "A terrorist is a man with a bomb, that doesn't have an air force."
Now it seems that in the case of an imprisoned people, it's not even the image of the bomb but the plane - even if it's made of boxwood and nails.
Are there no lawyers?